Since I'm such the blogger now (yeah, right, I hardly think of myself that way), I thought it would be fun to participate in a couple of holiday bloggy things. (Good sentence, huh? You'd never know I used to be an English teacher.)
Anyway, tomorrow
Lysa TerKeurst
is hosting a Cool Christmas Giveaway, and I've decided to play. Primarily because I love Lysa, but also because this is just the time of year to give stuff away. So check back tomorrow to see what I've come up with. We'll both be surprised!
The second "bloggy thing" I'm going to participate in will happen on December 15 when
Sophie at Boo Mama
is hosting a virtual Christmas open house of sorts. So come back on the 15th to get a little glimpse of what the Wild household looks like at Christmas.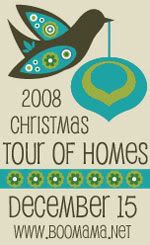 Jingle Jingle, everybody!