"Our fall was, has always been, and always will be, that we aren't satisfied in God and what He gives."
Ann Voskamp, "One Thousand Gifts"
Oh boy. Just . . . oh boy.
I've started reading a new book—Ann Voskamp's "One Thousand Gifts"—and I can see that this is going to be profound. Moving. Life changing.
I've only read three chapters—chapters that need to be savored, not devoured—but I can already tell that this is a book that will have a deep impact on me.
Ann begins her book (a memoir, my favorite genre) by telling the story of her younger sister's death when Ann was only four years old. An accident; she was run over by a truck in the yard of their farm.
After many years of questioning God, harboring bitterness and anger, Ann learns to release these feelings through what she calls the gift of gratitude. A friend challenges her to write down One Thousand Gifts, daily reminders of God's grace in her life, to see what would happen.
Things happen alright. Even in just three chapters, Ann shows what the deep roots of ingratitude can do to a person and how just thinking of God's goodness every day has changed her.
I've been trying to chronicle my own "Gratitude Journal" here over the past few weeks, but I haven't been consistent. I've even thought about stopping because I didn't see the purpose in it clearly. But now, after just three chapters of "One Thousand Gifts" I'm beginning to get it. And I'm beginning to see how thankfulness can root out the ugliness of bitterness, anger, discontentment.
I've been through a bit of what Ann has. Many of you know (but many don't) that I lost a brother to an accidental drowning when I was eleven years old. I have much to say about that, but not here and not now. I only mention it to say that I get where Ann has been. I'm not sure I've held on to the questions about God the way Ann has, but I'm sure I have suffered the discontentment she talks about. The questioning of God's ways in our lives.
And I'm on the other side of it now too. Not quite sure how I got here, although I'm fairly certain it wasn't through counting my blessings.
It should have been.
And so I count them now. The blessings. They are all around me, so deep, so vibrant, so real that I can touch them every day.
I'll keep counting. You can keep reading. And we'll all keep growing.
If you'd like to read Ann Voskamp's book "One Thousand Gifts" you can order it here. And if you'd like to follow along with (in)Courage—they are hosting a book club with Ann Voskamp every week—you can find the interviews here.
Gratitude Journal
66. Sunlight streaming through my bedroom window.
67. Long walks with Thunder
68. Temps above freezing.
69. Safety through the blizzard.
70. Little girl hugs after a weekend away.
71. Our church. (Do I say this every week?)
72. Birthdays.
73. Long talks over lunch.
74. My Bible study co-leader.
75. Opportunities to wait and see.
76. All the people I love and who love me so well.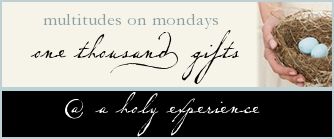 Happy Valentine's Day!