Y'all! This is so weird! I was totally going to add some of my own photos to this post, but after I took the pictures and then took the memory card out of my camera and then walked upstairs, I somehow LOST the memory card! Go figure! If I ever find it again, I'll put the pictures up. But for now, I need to finish my story.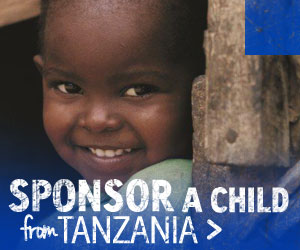 So, after
the women's retreat when I received an unexpected check
, I decided I would sponsor a Compassion child. My motives, as you now already know, aren't always that stellar. I mean, Nordstrom almost won out over Compassion.
And now I have to confess something else: sponsoring a child through Compassion was also somewhat of an experiment. See, my husband had signed up to sponsor a child through another agency a couple of years earlier. It's been fine, and we still sponsor her today, but the communication we've received from that other agency hasn't been great. I'd call it spotty at best.
So my curiosity got the best of me, and I started to wonder, after following several Compassion blogger trips over the years, if Compassion would be any different. How would their communication compare to the communication we'd been receiving from the other group? And that's why I decided on Compassion.
Not the best motivation, I know. Pitting one Christian agency against another. Who do I think I am?
But on to my story of how I chose my Compassion child. . . .
It was just a random day, really. Julia had just gotten home from school, and I must have had the Compassion website pulled up on my computer. I knew I needed to commit to sponsoring a child soon or else the pull of Nordstrom might become too strong.
So there we were, sitting in my kitchen, me on my laptop, Julia with her hand in the cookie jar, literally. I told her what I was doing and, already feeling like I wanted to sponsor a child from Africa, I said to her, "So Julia, where should we sponsor a child from?" (Please excuse the poor grammar--school is finished for me.)
Julia thought for a second and said, "I think Africa."
My sentiments exactly.
"So where in Africa, do you think?"
"I know, Mom! How about Ethiopia? K is from Ethiopia."
K is one of Julia's dearest friends who lives on our street. The girls have gone through elementary and middle school together and will be headed to high school together next year. K is one of the sweetest, smiliest, most endearing kids I know, and she was adopted from Ethiopia.
So Ethiopia it was. In honor of K.
We have sponsored Melat for a little over a year now, and I have to say that I have received more letters from her already than we have from the other child we sponsor through another agency. And you know what? I have written more letters to Melat than to the other girl too. I love writing to her!
Melat is about five years old now. She lives in a city in Ethiopia in a house made of mud and corrugated iron sheeting. She likes to play with her siblings and to draw pictures. In every letter she says, "Please pray for God's protection over me."
Do you know how that breaks my heart?
When my children were five, they never, I am certain, gave a single thought to their own safety. I am sure that they never thought to pray for their own protection.
I wonder sometimes what Melat has seen. What she experiences on a day-to-day basis. I wonder how she's getting by. I wonder if she's safe. I wonder what her street in Ethiopia looks like and if her mother loves her. I wonder so much about her.
I'm sure she wonders about me, too. She probably wonders who this American woman is--the woman who sent her a picture of her family. She probably wonders what my life is like and what my street looks like. I'm pretty sure it's vastly different from hers.
So, in the end, I randomly chose to sponsor a Compassion child because I was curious about Compassion as an organization. I randomly chose a country based on someone we knew. I randomly sat down one day and clicked a few keys on my computer and suddenly sponsored a little girl.
And you know what? I'm the one who has been blessed. Blessed to know that one less child in the world will go to bed hungry. Blessed to know that Melat knows that someone halfway across the world cares for her. Blessed to be a part of something much bigger than myself.
Won't you choose blessing today, too? Please sponsor a child through Compassion. You can be sure that your money will be well-used to bring a new life to those who need it most. Simply click on the picture at the top of this post, and you'll be whisked away to Compassion and children who need sponsors (lots of them!) and blessing.
And finally, please check out the
Compassion bloggers posts
. (
Nester's post from yesterday
--oh my!) You will be so blessed by reading their posts and experiencing just a little of what they're experiencing.